Khan Chamkar Mon
The center of Phnom Penh, where restaurants and commercial facilities are concentrated
Khan Chamkar Mon is an area that extends below Sihanouk Street and faces rivers including Diamond Island, and is dotted with many Cambodian government agencies, ministries, and embassies of each country. The area on the right side of National Road 1 is Tonle Basac, and there are many commercial facilities such as the first AEON MALL store that has been operating since 2014, Naga World Casino, and BTK Plaza, which also has its own underground parking lot and multi-storey car park. It is also an area, where luxury real estate development is progressing. On the east side of the BKK1 area, in the back-alley area where St.308 and St.29 meet, the small hotspot
"Bassac Lane", which is currently attracting attention, is a fashionable pub street where foreign residents gather. Originally, Diamond Island was a small island with thick trees, but it has been completely reclaimed and is being developed as a sub-center area on the major domestic Canadia group. It has an amusement park and ferry terminal and where many international and local events was hosted. The recently popular Toul Tom Poung area, where the Russian market is located, is a
fusion of foreign residents and locals, with many international cafes, restaurants and bars lined up along St. 123, and new stores are opening one after another. Khan Chamkar Mon has a high standard of living even in Phnom Penh and is a popular area for both foreigners and locals. According to the 2019 Cambodian census, the total population of Khan Chamkar Mon was 70,772 and the land size is 6.9 km2.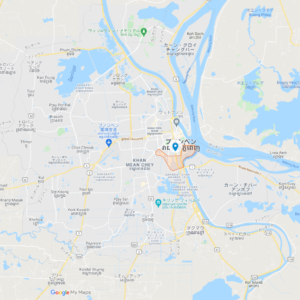 Filter
12 properties were found.
About investment property transactions