Khan Chroy Changvar
Area connecting central Phnom Penh and Eastern New area
Khan Chroy Changvar is located at the confluence of the Mekong River and Tonle Sap Lake, and is an area that includes the peninsula and Dutch Island formed by both rivers. National Road 6, which runs along the riverside of the district, provides a direct route from central Phnom Penh to major northern provinces such as Siem Reap, Kampong Thom and Kampong Thom through the Chroy Changvar Bridge, also known as the Friendship Bridge between Cambodia and Japan. The Chroy Changvar Peninsula, where the Soka Hotel is located, is currently under development by the
Cambodian conglomerate OCIC, which is a sanitary city of 300ha. Demand for condominiums, villas and shophouses is increasing, pushing up the price of land in Chroy Changvar higher. Garden City, which is under development in the north, has a scale of 2200 ha, and hotels, golf feild, water parks and Safari World have already opened. The win-win monument, a symbol of national unity announced in 2019, is in the opposite of Morodok Techo National Stadium. The holding of Southeast Asia's largest sporting event (SEA Games) in Cambodia in 2023 further accelerated the
development of the Khan Chroy Changvar. A 500ha Chinatown will also be built in the future. With easy access to central Phnom Penh and surrounding rivers, and large undeveloped land, there is great potential for urban housing development and industrial development to coexist and it expects to develop into the next big conomic center. According to the 2019 Cambodian census, the total population of Chroy Changvar was 159,233 and the land size is 88.5 km2.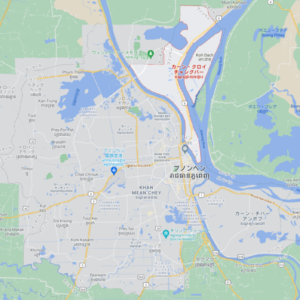 Filter
15 properties were found.
About investment property transactions