Japanese banks are also looking overseas, especially for fast-growing Asian banks. Cambodia is one of them. There are many banks in Cambodia as well as in Japan, but we would like to introduce the banks that are major banks and that foreigners can deposit with peace of mind.
The biggest advantage of a Cambodian bank account is that you can make a time deposit with a very high-interest rate of up to 6.50% per year in US dollars.
Expansion of Japanese banks into the Asian region
In Japan, the domestic negative interest rate policy is deteriorating the profits of banks. For this reason, ATM fees and account maintenance fees are being introduced in sequence. On the other hand, there is an active movement to invest in overseas banks with potential.
Mitsubishi UFJ holds a 70% stake in the Bank of Ayudhya in Thailand and a 94% stake in Bank Danamon in Indonesia. Mizuho Bank has a 15% stake in Vietnam Bank (Vietnam), and Sumitomo Mitsui Banking Corporation has an 18% stake in Cambodia's ACLEDA Bank.
Advantage of opening a bank account in Cambodia
1. Even foreigners can open a US dollar account
The major banks in Cambodia introduced by us can open accounts for foreigners including Japanese. You can have an overseas account and manage your assets in US dollars.

2. You can make a high interest rate US dollar-denominated time deposit
With time deposits, you can steadily increase your assets in US dollars with an annual deposit rate of 6% or more.

3. Issuance of cards with debit card function
World brand VISA, MASTER, etc. can be selected as the debit card of each bank. You can shop and withdraw all over the world.

4. Online banking that allows overseas remittance
Since there is internet banking, you can check transaction details and balances wherever you are, and you can also send money overseas.

5. There is no fee for canceling the time deposit in the middle
In Cambodia, basically no bank charges a fee for canceling a time deposit in the middle. If you cancel, the interest rate of your savings account will be applied.

6. No tax procedure is required in Cambodia after holding an account
Withholding tax is also levied in Cambodia, but the system is the same as in Japan. The bank will collect the interest when you deposit it, so you do not need to take any procedures yourself or file a tax return in Cambodia. The tax rate is 14% for non-residents and 6% for residents on interest.
Banks that can open an account in Cambodia
ACLEDA Bank ( ACLEDA Bank Plc.)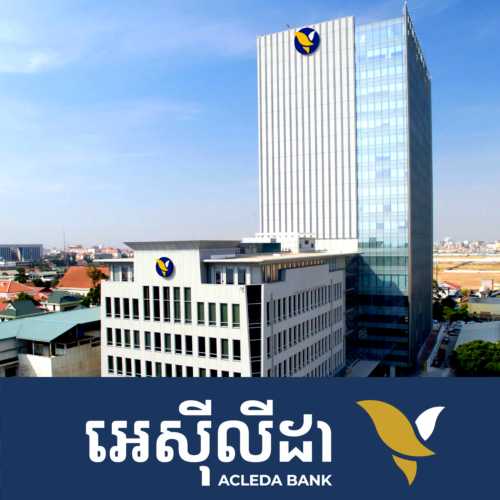 ACLEDA Bank is the largest commercial bank in Cambodia. In October 2000, it became a specialized bank and was listed on the Cambodia Securities Exchange (CSX) on May 25, 2020, making it the first commercial bank to be listed in Cambodia. In addition, a major Japanese financial company is a shareholder of ACLEDA Bank. (Sumitomo Mitsui Banking Corporation: 18,07%, ORIX: 12.13%, total of about 30% owned by the two companies, as of December 2020)
The branch office has 252 branches in Cambodia, 41 in Laos, and 6 in Myanmar, and we are expanding overseas. There is no Japan desk inside ACLEDA Bank. The minimum principal amount for a time deposit is KHR 2,000,000 or USD 500.
ABA Bank (Advanced Bank of Asia Ltd.)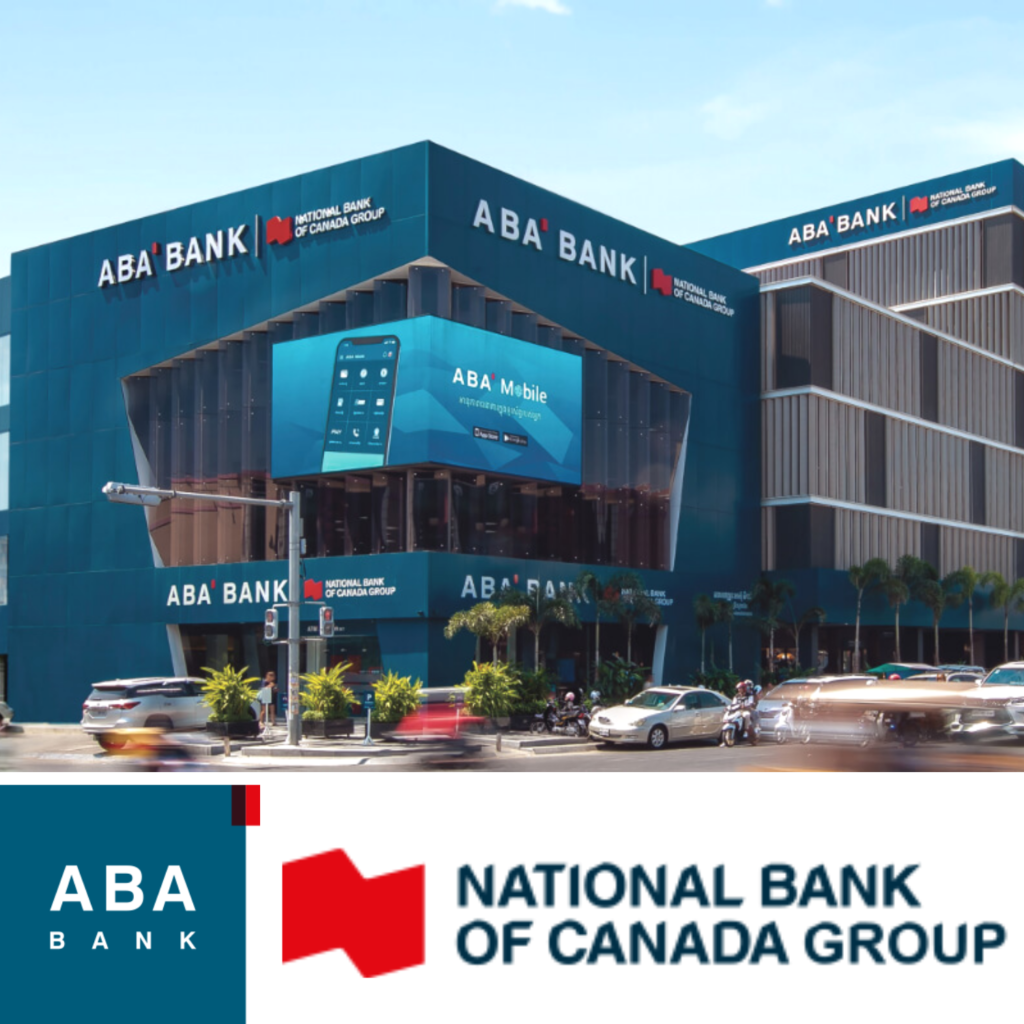 ABA Bank is a subsidiary of Canada's sixth-largest bank, the National Bank of Canada, and is currently the largest bank in Cambodia competing with ACEDA Bank for 1.2th place. The number of ATMs and branches in central Phnom Penh is said to be No. 1 in Cambodia.
The reasons for the popularity of ABA Bank are the ease of use of mobile apps and the large number of stores that have introduced a cashless payment service called ABA pay. It will be difficult to find a businessman who is not an ABA bank user in Cambodia. ABA Bank does not have a Japan desk. The minimum principal amount for a time deposit is KHR400,000 or USD100.
CANADIA Bank (Canadia Bank Plc.)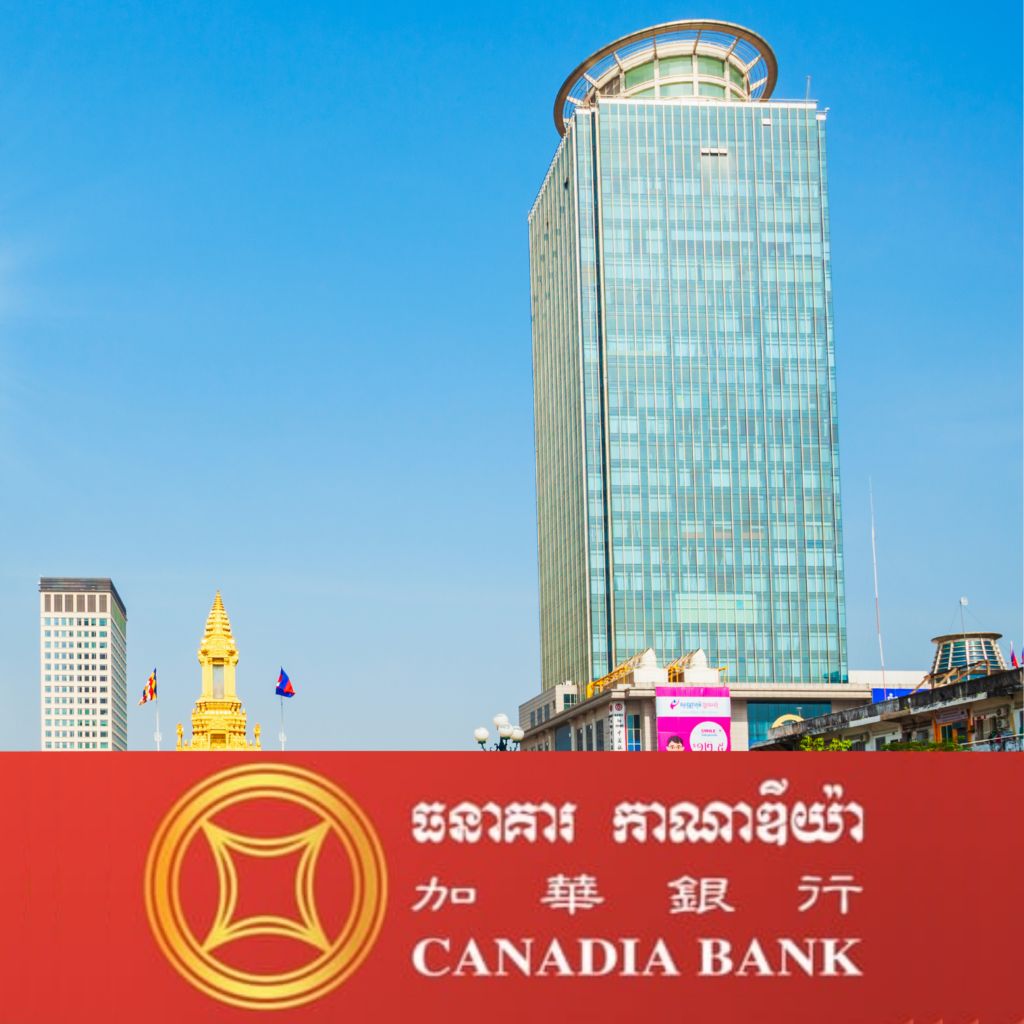 Established in 1991 as a joint venture between Cambodian Canadians and the National Bank of Cambodia, Canadia Bank is a major domestic bank that has gained an overwhelming market share not only in deposits but also in loans since its privatization in 1998. The Canadia Tower, which stands side by side with the Vattanac Tower in the center of Phnom Penh, is a symbol of the success and growth of the Canadia Bank.
There is no Japan desk, but one Japanese staff member is stationed in the main tower. Among the major banks in Cambodia, it is said that the hurdle to open a local account is relatively low. Deposits in Riel (KHR), US Dollar (USD), Thai Baht (THB), and RMB (RMB) are possible.
PPC Bank (Phnom Penh Commercial Bank Plc.)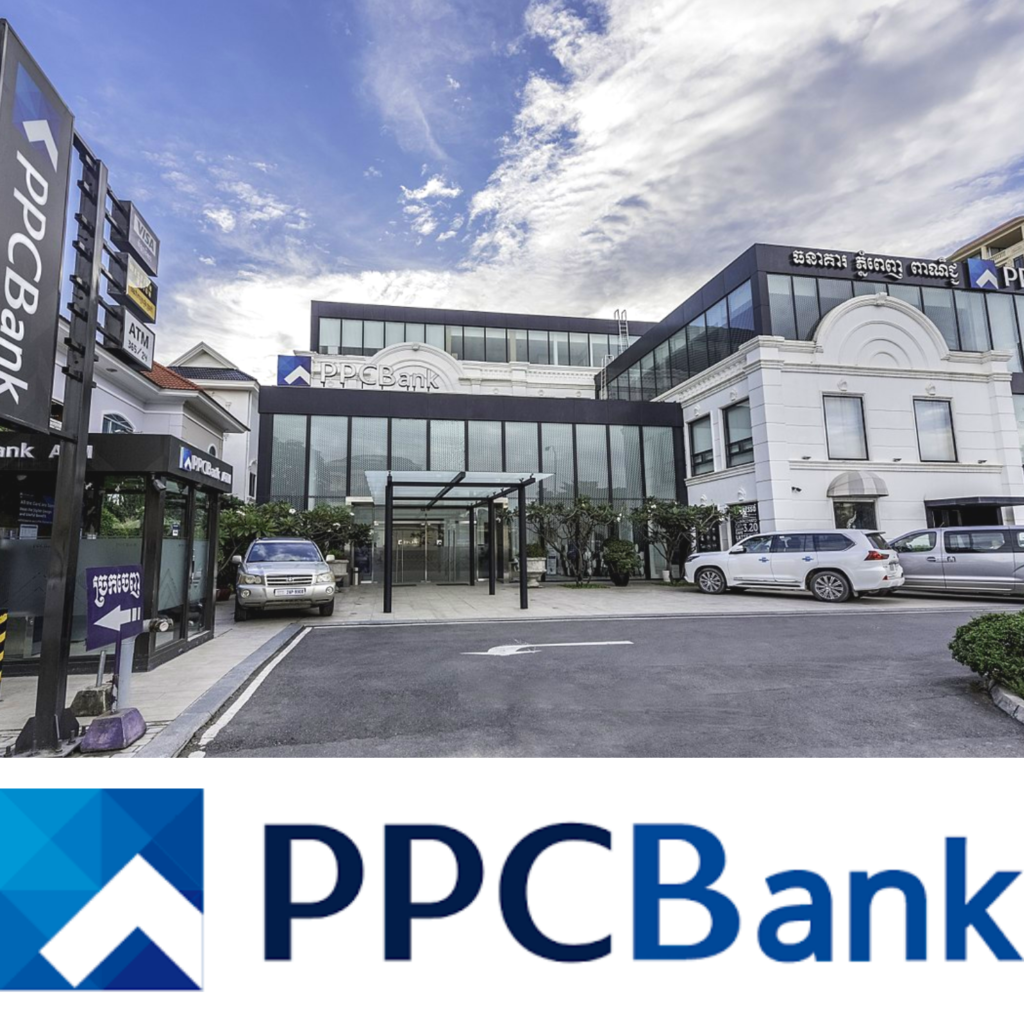 Phnom Penh Commercial Bank is a Korean bank licensed in 2008. It is characterized by focusing on customer support, such as setting up a service center in Khmer and English 24 hours a day, 7 days a week, and setting up dedicated desks in South Korea, Japan, and China.
Since there is a Japan desk, it is said that there are many Japanese account holders next to ACLEDA Bank and ABA Bank.
The minimum principal amount for a time deposit is KHR 2,000,000 or USD 500.
Sathapana Bank (Sathapana Bank Plc.)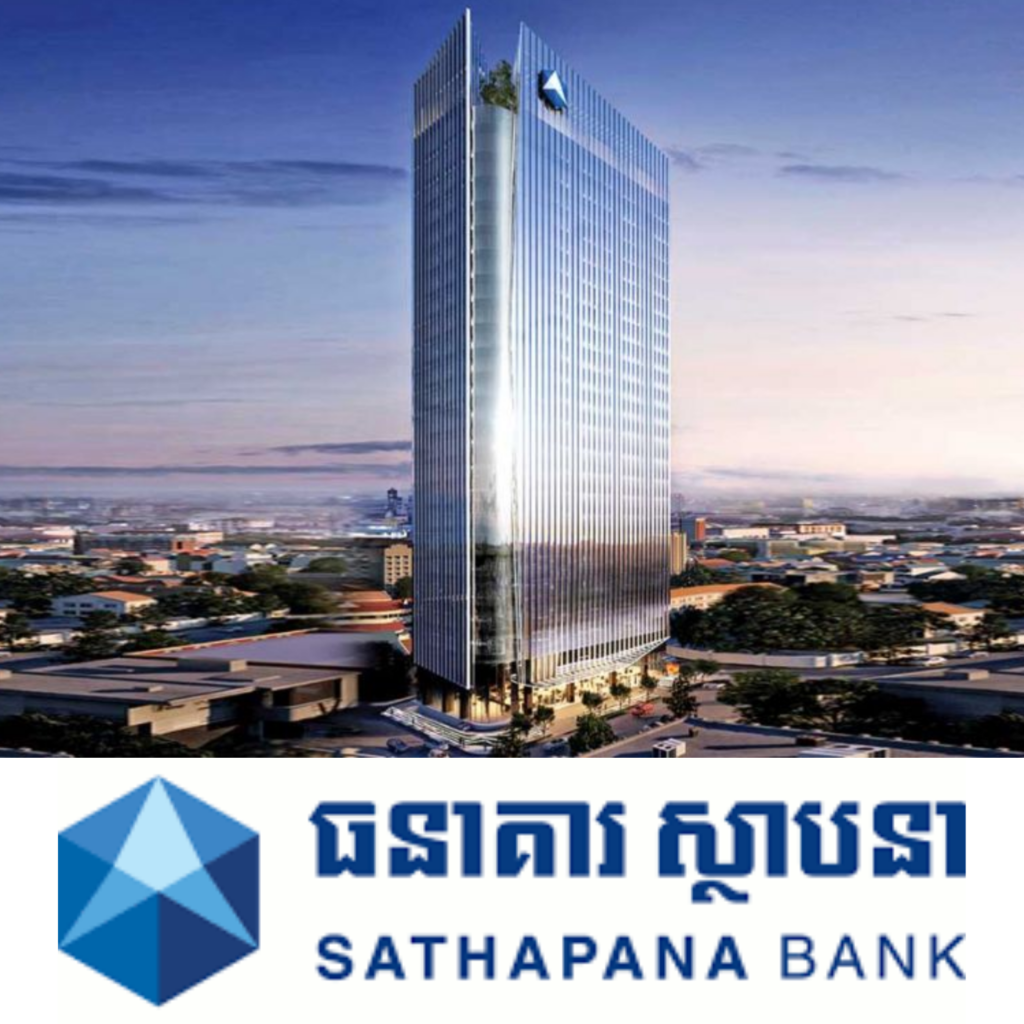 Sathapana Bank is a bank that started operations in April 2016 by merging Maruhan Japan Bank and Sathapana, which are operated by Maruhan Corporation, which is famous for operating pachinko halls in Japan. Currently, Sathapana Bank has more than 170 branches nationwide as one of the top commercial banks in Cambodia.
Since Sathapana Bank is a Japanese bank, it has a Japan desk, and its ATMs and websites support Japanese. In Cambodia, the bank requires the most documents when opening an account, but the interest rate on time deposits is high and it also supports long-term time deposits. The minimum principal amount for a time deposit is KHR200,000 or USD50.
The major Cambodian banks introduced here will give you peace of mind when making deposits. Cambodian time deposits are considered to have high returns despite their overall low risk compared to neighboring countries.
Until a few years ago, it was common for Cambodia to use US dollar-denominated time deposits with an annual deposit interest rate of over 7%. What used to be possible with only a passport and visa when opening an account is now required to submit additional documents. We don't know when foreigners will be restricted from opening accounts, and deposit rates will usually fall as demand increases.
Cambodia is still developing, but it is a country with great potential. To put it the other way around, know Cambodia as soon as possible because it is still developing, and by all means take advantage of the leader at the timing of this high-interest rate.
Opening a securities account in Cambodia
Cambodia has the Cambodia Securities Exchange (CSX), which opened on April 18, 2012, where you can buy and sell shares of listed companies through a securities company. Stock exchange trading and bond trading are possible. The history is still short, and the number of listed companies is currently small at 7, but the number of investors from overseas is increasing year by year, and the trading value and trading volume are also rising.
There are 11 securities companies, and we will guide you through the procedures for opening an account with ACLEDA Securities, a wholly owned subsidiary of ACLEDA Bank, which can be opened by foreigners, and SBI Royal Securities, a Japanese company.
In addition, the currency at the time of securities trading is only the local currency Riel. Currently, there is no capital gains tax on foreigners, both resident, and non-resident, but a 20% tax will be levied from January 2022.
■Cambodia Securities Exchange (CSX)
Trading day
Monday~Friday (Excluding holidays)
Time
8:00am~3:00pm
currency
Riel(KHR)
Settlement date
2 business days after the trading date
price movement limit
± 10% of base price
Minimum trading unit
1 share
Pricing
Itayose method;:8:00am~9:00am、2:50pm~3:00pm
Zabara:9:00am~2:50pm
order method
Limit order(LO)
Market order(Market Order) /FAS, FAK, FOK
■List of currently listed companies
| | | |
| --- | --- | --- |
| No. | Listed companies | Listing date |
| 1 | Phnom Penh Water Supply Authority (PWSA) | April 18, 2012 |
| 2 | Grand Twin International Plc (GTI) | June 16, 2014 |
| 3 | Phnom Penh Autonomous Port (PPAP) | December 9, 2015 |
| 4 | Phnom Penh SEZ Plc (PPSP) | May 30, 2016 |
| 5 | Sihanoukville Autonomous Port (PAS) | April 25, 2017 |
| 6 | ACLEDA Bank Plc (ABC) | May 25, 2020 |
| 7 | Pestech(Cambodia) Plc (PEPC) | August 12, 2020 |